A Lasting Impression
Tamera Alexander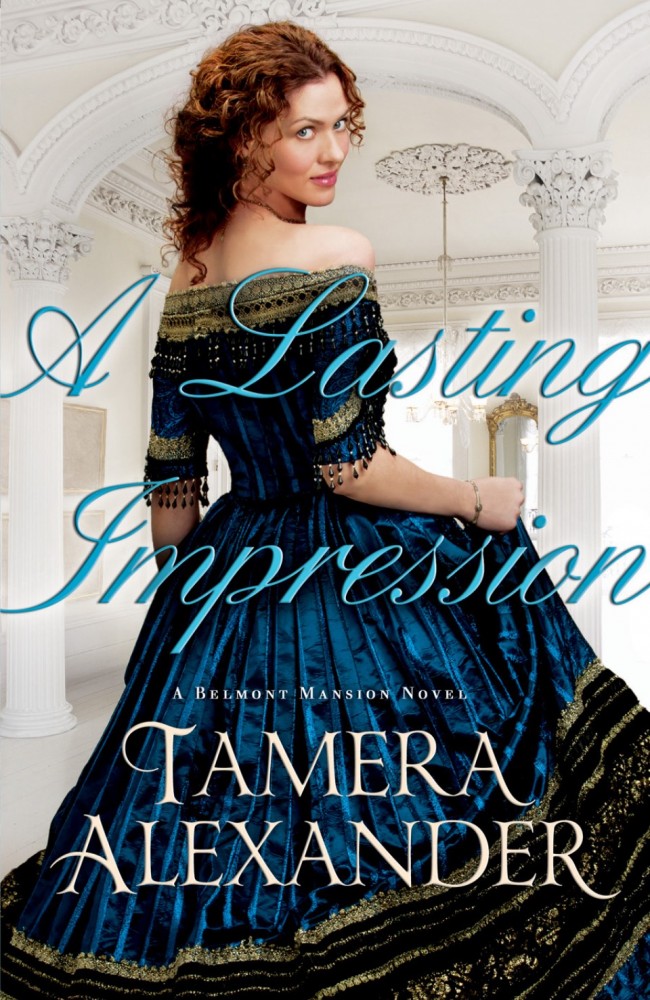 Plot Development:  1  2  3  4  5  6  7  8  ⑨ 10
Pace: 1  2  3  4  5  6  7  8  ⑨  10
Quality of Writing: 1  2  3  4  5  6  7  8  9  ⑩ 
Characters Development: 1  2  3  4  5  6  7  8  9  ⑩  
Ease of Reading: 1  2  3  4  5  6  7  8  ⑨  10
Publication Date: 2011
Number of Pages: 426
Series: A Belmont Mansion Novel-Book 1
Summary on back cover:
---
Claire Laurent's greatest aspiration is to paint something that will bring her acclaim. Yet her father insists she work as a copyist. A forger. When she's forced to flee her home, her path collides with attorney Sutton Monroe, who shows her kindness by not turning her in to the authorities. But when he later refuses to come to her aid, Claire fears she's sorely misjudged the man. Finding herself among the elite of Nashville's society, Claire believes her dream to create a lasting impression in the world of art is within reach––but only if her past remains hidden.
The Federal Army has destroyed Sutton's home, and confiscated his land, and now threatens to destroy his family's honor. His determination to reclaim what belongs to him reveals a truth that may cost him more than he ever imagined––as well as the woman he loves.
Set at Nashville's historic Belmont Mansion, a stunning antebellum manor built by Mrs. Adelicia Acklen, A Lasting Impression is a sweeping love story about a nation mending after war, the redemption of those wounded, and the courage of a man and woman to see themselves––and each other––for who they truly are.
Review
---
This book was one of the few that has made a "Lasting Impression" on me. Pun intended. It is one of my favorite books of all time, which is saying something because as you know, I have read a lot of books in my day. Tamera Alexander's writing is out of this world. Other authors don't even compare.  This book seemed so realistic.  From her writing style to her characters, it just seemed so real. This is not a small book. I mean, it's four-hundred and twenty-six pages so, it is a pretty big book. And you know what? I didn't want to stop reading about Claire's Laurent's life. 
You can guess that her character development is also extraordinary.  It felt like I personally knew the characters and they could step out of the book and be real people (another reason to LOVE this book). Finding these qualities in an author is somewhat rare.  Plus, it is based off of Belmont Mansion which is located in Nashville Tennessee. This is a beautiful place to imagine while you're reading this book.
With a little touch of humor this book was everything you want in a historical novel. This is a very big and thorough book so if you are looking for something lighthearted and fast to read then I might recommend something else but I would encourage you to read this book.
God Bless,
Leah