Love's Rescue
Christine Johnson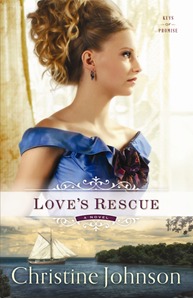 Plot Development:  1  2  3  4  5  ⑥  7  8  9  10 
Pace: 1  2  3  4  5  6  ⑦  8  9  10 
Quality of Writing: 1  2  3  4  5  6  ⑦  8  9  10
Characters Development: 1  2  3  4  5  6  ⑦  8  9  10
Ease of Reading: 1  2  3  4  5  6  7  ⑧  9 10
Publication Date: 2015
Number of Pages: 328
Summary on back cover:
---
When her mother dies, Elizabeth Benjamin heads home to Key West, determined to transform herself into the perfect Southern belle her parents always wished her to be. But nothing goes according to plan. Her brother resents her, the servants do not obey her, and Rourke O'Malley, the dashing man she vowed to forget, refuses to relinquish his hold on her heart. Worst of all, it becomes painfully obvious that her father is not the upright man he appears to be.
As family secrets come to light, Elizabeth is faced with a difficult choice: to do her duty and abandon her dreams, or to leave her life of privilege behind to chase the man her father sees as little better than a pirate.
From the first emotional page, author Christine Johnson throws readers into a world of impossible choices, hidden desires, and heart-melting romance in the steamy south.
Review
---
The best way to describe this book was just "ok". The characters were "ok", the storyline was "ok", I think you get what I'm saying. It wasn't bad, it just wasn't great. The main problem with this book was that it wasn't developed enough. It felt like it was over before it began. I didn't feel like I truly knew the characters. The cause of this is the fact that the story was over a very long period of time and the book was relatively short.  When I started reading, I felt like there was so much back story--almost like it was book two in its series. One thing I can say about this book is that I enjoyed this storyline and characters. Plus, I love the cover and the setting of the book. It's set on an island in Key West, such a beautiful place to imagine. There are definitely better books out there but I also think that this book is worth a try. If you wanted to buy a book I would encourage you to keep looking, but if you were able to borrow it from someone or get it from the library, I would recommend you do so.
Hope this helps,
Rachelle