Murder at the Courthouse
A.H Gabhart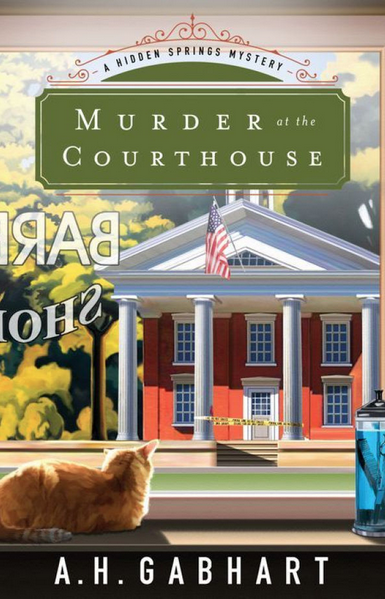 Plot Development:  1  2  3  4  5  6  7  8  ⑨  10
Pace: 1  2  3  4  5  6  7  8  9  ⑩ 
Quality of Writing: 1  2  3  4  5  6  7  8  ⑨  10
Characters Development: 1  2  3  4  5  6  7  8  9  ⑩
Ease of Reading: 1  2  3  4  5  6  7  ⑧  9  10
Publication Date: 2015
Number of Pages: 321
Series: A Hidden Springs Mystery-Book 1
Fiction
Summary on back cover:
---
Michael Keane's stressful days as a Columbus police officer are done. He's ready to relax into his new position as deputy sheriff in his sleepy hometown. Nothing ever happens in Hidden Springs, Kentucky—and that's just fine with Michael. Nothing, that is, until a dead body is discovered on the courthouse steps. As Michael works to solve the case it seems that every nosy resident in town has a theory. When the sheriff insists Michael check out one of these harebrained theories, his surprising discovery sends him on a bewildering search for a mysterious killer that has him questioning everything he has ever believed about life in Hidden Springs.
Bringing with her a knack for creating settings you want to visit and an uncanny ability to bring characters to life, A. H. Gabhart pens a whodunit that will keep readers guessing.
Review
---
From the cute, quirky cover on the front to the description on the back, this book was perfection all the way around.  I love a good who-done-it mystery. On the Christian Book Market, there is also not a whole lot of mystery books out there.  So let me dive right in to this review.
A.H Gabhart's writing was phenomenal. She really brought the characters to life. I know that this may sound weird, but I hate it then authors make their main character flawless. They are kind, humble, and get along with everyone around them.  It just seems so un-realistic.  Coming back to my point, the main character in this book, Michael Keane, was so relatable. He had struggles and doubts so therefore he seemed very life-like. I thought A.H Gabhart did an excellent job on him as well as all the other characters.
As much as I don't want to say anything negative about this book, I'm just going to have to. You may know from the back of the book, Michael Keane is a deputy sheriff of a small town called Hidden Springs. Because this town was so small, the author incorporated the whole town in the storyline. At times, it was pretty confusing. It was almost as if you had to keep track of everyone that popped up in the story in case they showed up again so you could remember what role they played in Hidden Springs.
On to my second negative thought about this book.  At one point in the book Michael and his aunt were talking about the pastor of the Presbyterian Church in Hidden Springs, a certain Karen Allison, a woman.  Now I am going to leave this subject with a Bible verse and some commentary and then let you decide what you think about this woman pastor issue.  1 Timothy 2:12 states:
"But I suffer not a woman to teach, nor to usurp authority over the man, but to be in silence"
From the New Defender's Study Bible by Henry M. Morris I quote,
"Paul is not saying that woman should never teach, for he later said that they should teach the younger woman (Tit 2:4), and commended Lois and Eunice for teaching Timothy (2 Tim 1:5, 3:14-15). The emphasis here (and in 1 Co 14:34-35) is on authoritative public teaching in the church, a ministry for which God-called men has been specially created. They are not to take over the primary teaching from the men (which would clearly include the pastor).
I know that is a lot to swallow, but I would encourage you to do your own research on this topic.
To sum this all up this book was definitely worth the read.  With plot twists and turns, I thoroughly enjoyed reading this book and I hope you will too.
God Bless,
 Leah