The Huntress of Thronbeck Forest
Melanie Dickerson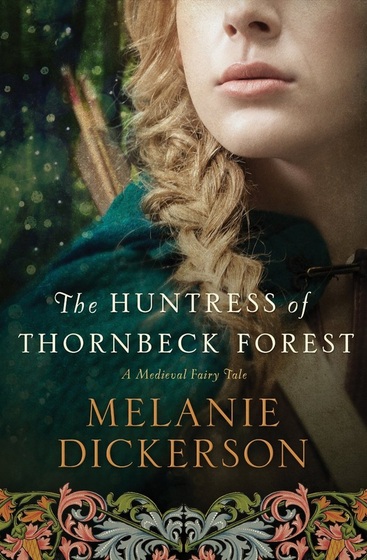 Plot Development:  1  2  3  4  5  6  7  ⑧  9  10 
Pace: 1  2  3  4  5  6  7  8  ⑨  10 
Quality of Writing: 1  2  3  4  5  6  7  8  ⑨ 10
Characters Development: 1  2  3  4  5  6  7  ⑧  9  10
Ease of Reading: 1  2  3  4  5  6  7  8  ⑨ 10
Publication Date: 2015
Number of Pages: 306
Summery of back cover:
---
The margrave owns the finest hunting grounds for miles around—and who teaches children to read, but by night this young beauty has become the secret lifeline to the poorest of the poor.
For Jorgen Hartman, the margrave's forester, tracking down a poacher is a duty he is all too willing to perform. Jorgen inherited his post from the man who raised him . . . a man who was murdered at the hands of a poacher.
When Jorgen and Odette meet at the Midsummer festival and share a connection during a dance, neither has any idea that they are already adversaries.
The one man she wants is bound by duty to capture her; the one woman he loves is his cunning target . . . What becomes of a forester who protects a notorious poacher? What becomes of a poacher when she is finally discovered?
Review
---
I don't know about you, but sometimes I get tired of the same old historical/romance and suspense and intrigue books. It always seemed like there was nothing more out there for a reader like me.  I wanted something different, intriguing.  Then I came across Melanie Dickerson, who writes in the medieval time period, her books are usually based on a fairy tale.  This concept got my attention and therefore I thought I would give it a try.  From the start I was enthralled.  Like I said, it was so fresh.  I had never read anything like it before. Her characters were also very realistic. Writing in the medieval time, I presume, is hard to do, yet she did it exceptionally.  Her writing……. The only way I know how to describe it is flowing. The whole book just flowed.  No lack of knowledge of what was going on, no boring parts, etc.  Like fairy tales, some of the stories are predictable, examples being Snow White and Sleeping Beauty. This is not bad at all, it will leave you with warm fuzzies. 
This one was based loosely on Swan Lake and Robin Hood. For me, Robin Hood is one my favorite fairy tales, so maybe that's why I like it so much.  If you want something that is fresh and new from your daily book routine, I think you should give it a try.  I added one of Melanie Dickerson books to my rotation, keeping it new and fresh.
God Bless,
Leah